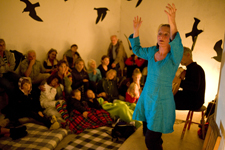 I am involved in projects in many different connections - often cross projects with other art forms, institutions or professionals.
They may be going on for a shorter or longer periode of time –
sometimes for a number of years.

Below are some examples :

Akkamaka Duo: Musical Stories.
Read more here.

Teater Viva: I also work as an actor and a performer in my own Teater Viva.
For more information: www.teaterviva.dk.

Stories in the Lighthouse:
For a number of years I have been involved in cultural arrangements and courses on Anholt.
For more information: www.fortaellingerifyrtaarnet.dk.

The Bridge of the Story: In co-orporation with among others Danida and Operation Dagsværk I have been involved in cultural exchanges in e.g. Mexico and Tuva.
Angulos Productions have produced the film Fortælleren (The Storyteller) about one of these exchange travels to Chiapas, Mexico 2007.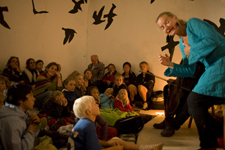 The Peripheral Company: A co-orporation with other artists in cross art projects - often in outlying districts.
For more information: www.detperifereselskab.dk.

Face to Face: Cultural meetings going astray. A co-orporation with Teatret Kimbri and Danseteatret Nordenfra.

Myth, music and painting: A cross artistic course for kids and young people in co-orporation with the painter Bente Elisabeth Endresen and the musician and composer Aksel Striim.

Sound concerts and workshops in improvisation: In co-orporation with the two multi-instrumentalists Søren Frieboe and Aksel Striim I am involved in projects and arrangements with both ekspressive and meditative improvisation concerts and workshops.

Camino Molino: A long-standing co-orporation with 5 lovely musicians in the orchestra Camino Molino.
We play among other things concerts and ball and we also do storytelling concerts with stories and music. 
For more information: www.caminomolino.dk.

Usmifka: For many years I have worked with the fantastic Bulgarian-singing women's choir Usmifka from Copenhagen.
We constantly explore the interaction between choir music and storytelling. At the moment we have the reimbursement approved storytelling concert  De Gyldne Æbler (The Golden Apples) in our repertoire.
For more information: www.teaterviva.dk and www.usmifka.dk.

Hel's Tongues: A storytelling group consisting of 5 professional female storyteller, who continuously meet on work camps and explore the art of storytelling and create new material together.
The other members are Ingrid Hvass, Lise Marie Nedergård, Anette Wilhelm Jahn and Ellen Dahl Bang .

Besides that I have had short-term and long-term co-orporations with e.g. Ribe Vikingecenter, Teatergruppen Dunkelfolket, Kræftens Bekæmpelse,Teater Billedspor, Institutionen Sødisbakke, Århus Medie- og Billedskole, Trapholt Museet and Johannes Larsen Museet and others.

Contact me here if you or your institution/working place have a good idea for a possible co-orporation about a project.